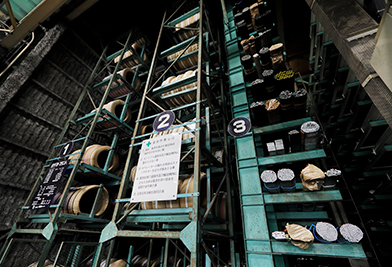 Our environment enables proper stocking of steel materials of various types and dimensions, while our inventory management system provides a solid, reliable understanding of where those materials are located. Both play an important role in allowing us to respond quickly and accurately to customers' needs to production materials. We began to work for it early on and introduced an automatic rack system enabling a huge inventory at all times in 1985.
Additionally, in 1999, we developed an original inventory/sales/production management system that gives us an accurate grasp of inventory (items/locations/quantities), providing more efficient access to the required steel materials. This enables just-in-time delivery to provide the steel materials the customer requires, in the required amount, and at the required time.
Moreover, utilizing the original system gives us a more accurate grasp of the types, dimensions, and quantities of steel materials provided to our customers. Based on the type and quantity of steel provided each month, we are also enhancing customer services to support the customer's production management.